Frequently asked questions (FAQ)
Can I book a specific parking space?
No, you can book a free parking space in the car park of your choice. As soon as you pass through the barrier with your QR code you can park in any available parking space. To find a parking space quickly, simply follow the car park routing system in the car park.
Will I receive a confirmation e-mail for my booking?
Yes. Once you have completed your booking, a confirmation e-mail will be sent to the e-mail address you provided. As the confirmation contains additional helpful information, we recommend that you print it out and take it along on your trip.
What do I need the QR code in the confirmation e-mail for?
You can print out the confirmation e-mail and QR code at home and place it with your travel documents. Hold the QR code to the scanner at the entry barrier. Once the booking data have been checked, the barrier opens automatically. No ticket is issued. When you return you can drive directly to the exit barrier, which will open automatically. If you have to pay an additional amount, scan the QR code at the ticket machine or at the exit barrier.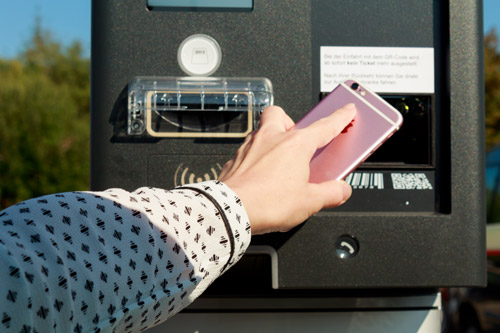 Is an available parking space guaranteed with my booking?
Yes. A parking space will be reserved for you in the car park of your choice. Even if the display indicates "Besetzt" (Full), you can enter the car park.
To find a parking space quickly, simply follow the routing system in the car park.
What if the car park is shown as "Besetzt" (Full)?
If you have completed your booking and have received a confirmation with an access code (QR code) for this period, we guarantee you a free parking space. You can ignore the "Besetzt" (Full) sign and enter at the barrier with your QR code.
To find a parking space quickly, simply follow the routing system in the car park.
Why do I not see all car parks when making a booking?
Availability is checked in the system on the basis of your requested date and times, and the various parking options are then displayed. If a car park is not indicated there are either no more available spaces or all the offers have been used up. Please note that demand for special offers can be very high. The booking is only complete upon receipt of the confirmation e-mail.
What happens if I arrive earlier than planned?
You can arrive up to 3 hours earlier than the booked time without having to pay a supplement. In other words, if you book a parking space as of noon, you can arrive at 9 a.m. on the same day.
What happens if I park for longer than planned?
If you park for longer than planned and outside the tolerance limit, the remaining time will be charged at the ticket machine based on the table below. You can pay with CHF, EUR, credit cards, a Maestro card or a Postcard at one of the many ticket machines.
| | |
| --- | --- |
| Car park | Amount in CHF every 12h |
| P 1-3 | 18.- |
| P 6 | 16.- |
| P 60 | 12.- |
| P 16 | 12.- |
| P 17 | 12.- |
Where can I get help if I have a problem?
If you have problems with the booking, you can call the support hotline on +41 43 816 86 10 (Mon-Fri 9:00-17:00). If you have problems entering or exiting, please use the Help button at the pillar (telephone symbol).
Can I change or cancel a booking?
It is not possible to change your booking. Any cancellation options will be communicated together with the booking. For further information on cancellations, please see the section on the website https://park.aero/. If you do not commence your trip or do not show up, you will be charged for the entire amount.
Can I use the same credit card for several bookings?
Yes. As you receive a separate booking number after each booking, you can use the same card several times.
Is a credit card needed for the booking?
An electronic payment method is required to pay the parking charges. You can pay conveniently with MasterCard, VISA, Diners and AmEx.
I'm having a problem paying with a credit card, what can I do?
For the payment process you will be directed from the Zurich Airport website to an external website. Unfortunately we do not have access to this platform and cannot help you if you encounter difficulties with a credit card payment. If your credit card is rejected by the system, your credit card company can provide information.
What should I do if I have taken a ticket at the entrance but did not verify my identity with the QR code?
If you mistakenly take a ticket, leave the parking area as quickly as possible and enter again, using your QR code. It is important that you use the QR code to enter, as your booking will not be recognised otherwise.
Can I enter and exit the parking space more than once?
No, the authorisation applies for a single entrance and exit.
Will I be reimbursed if I exit earlier than planned?
No, reimbursements are not possible.