Frequently asked questions? (FAQs)
Can I book a specific parking space
No, you can book an available parking space in the car park of your choice. After entering with the QR code you choose any available parking space.
Will I receive a confirmation e-mail for my booking?
Yes. Once you have completed your booking, a confirmation e-mail will be sent to the e-mail address you provided. As the confirmation contains additional and helpful information, we recommend that you print it out and take it along on your trip.
What do I need the QR code in the confirmation e-mail for?
You can print out the confirmation e-mail and QR code at home and place it with your travel documents. Hold the QR code to the scanner at the entry barrier (see picture). Once your booking data have been checked, the barrier will open automatically.
No ticket will be issued.
After your return please go directly to the exit. The barrier will open also automatically. If any additional payment is required you can scan the QR code at any ticket machine at the airport, or directly at the exit barrier.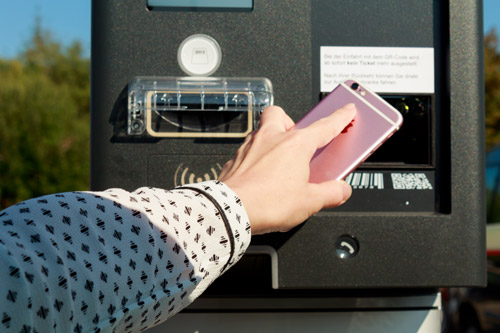 Why do I not see all car parks when making a booking?
Availability is checked in the system on the basis of your requested date and times, and the various parking options are then displayed. If a car park is not displayed there are either no more available spaces or all the offers have been taken. Please note that demand for special offers can be very high. The booking is only complete upon receipt of the confirmation e-mail.
Where can I enter the promotion code?
If you have received the code within a campaign, you can use the respective direct link. For all other cases, please use the field "Promotion Code" in the product overview and then click on "Apply" to check the availability. The availabilities and conditions are listed in the respective campaign emails. Only one promotion code can be entered per booking.
How do I know that the promotion code is being used?
If you visit our site via the link of a promotional e-mail, the code will be applied automatically and displayed with the action title. Alternatively, you can insert the promotion code manually and click on "Apply".
Can I use the offer later or on-site?
No, online promotions are only applicable to online products. Additional terms are listed in each campaign email.
Why is my credit card needed for the booking?
An electronic payment method is required for the payment of parking fees. You can easily pay with various cards (Mastercard, Visa, AMEX, Diners and Postcard) as well as via the Twint App, Google & Apple Pay and Post-e-Finance.
Can I use the same credit card for several bookings?
Yes. As you will receive a separate booking number after each booking and the entry takes place via QR code, you can use the same card several times.
Can I extend my booking?
If you have already entered the parking location, a booking can be extended until the originally booked time of exit. A reduction of the parking duration is no longer possible after entry. To extend a booking after entry, you can edit your booking in the confirmation and specify the new exit time under extend parking duration. Additional costs are possible due to the extended parking duration. If your booking has not yet started, you can change it yourself online under edit booking.
> Contact details
Can I change my booking?
A change is only possible until the booked entry time, after that no changes are possible. To change a booking, you can click on "Edit or cancel booking" in the confirmation. If you change your booking you will not be guaranteed a parking space in the same parking garage and under the same conditions.
> Change or cancel your booking
What happens when I change my booking?
After entering the correct date and time please press "Search". You will now see all available products - you have to select the desired product again. After successful rebooking you will receive a new booking confirmation with a new reference number. You can only enter the car park with the new confirmation. Here we explain the two variants to you:
Same amount:
Carry out the step "Continue to payment" again - a new debit will not take place in this case.
Different amount:
Carry out the step "Continue to payment" again - the new amount will be debited in full and the originally paid amount will be refunded to you in the same step. Refunds will be made via the payment method that you have used during your original booking and can take a few days depending on the payment method until the credit is made.
Can I cancel my booking?
Free cancellations are only possible with a cancellation protection. Once you have selected one of our parking products you can add the Cancellation Protection as an additional chargeable service. The Cancellation Protection allows you to cancel your booking free of charge up to the booked entry date. You will then receive a full refund of the parking fee. To cancel a booking, you can click on "Amend or cancel booking" in the confirmation. If you do not start your journey or do not turn up, you will be charged in full. If you have not booked a cancellation protection, we recommend that you change your booking to another travel period.
> Change or cancel your booking
What should I do if I have taken a ticket at the entrance instead of using the QR code?
If you have pulled a parking ticket by mistake, leave the parking area as soon as possible and re-enter using the QR code. It is important that you use the QR code for the entry, because otherwise your reservation will not be recognized. If a new entry is not possible, please get immediately in contact with our customer service.
> Contact details
What should I do if the car park sign says "Besetzt" (full)?
If you have completed your booking and have received a confirmation with the QR code for this period, we guarantee you a parking space. You can ignore the "Besetzt" (full) sign and enter with your QR code at the barrier. To find a parking space quickly, simply follow the parking guidance system, which will guide you to the free parking fields.
What happens if I arrive earlier than planned?
You can arrive up to 3 hours earlier than the booked time without having to pay a supplement. In other words, if you book a parking space as of noon, you can arrive at 9 a.m. on the same day.
If you make your booking less than 3 hours before the scheduled arrival time, the tolerance time will be limited as the booking must still be transmitted to the system.
What happens if I park for longer than planned?
If you park for longer than planned and outside the tolerance limit, the remaining time will be charged at the ticket machine. You can pay with CHF, EUR, credit cards, a Maestro card or a Postcard at one of the many ticket machines.
| | |
| --- | --- |
| Car park | Amount in CHF every 12h |
| P 1/2/3 | 18.- |
| P 6 | 16.- |
| P 16/60 | 12.- |
Where can I get help if I have a problem?
If you have any problems with the booking, you can call our customer service. If you have problems entering or leaving the car park, you can press the help button at the barrier, you will be connected to one of our parking operator 24/7.
> Contact details
How do I use the Park&Charge electric charging zone on P6 Floor 6?
By booking online, you can enter the Park&Charge zone with your QR code. A charging fee of CHF 0.65/kWh (Price subject to change) will be charged on site. You pay the charging fee directly at the charging station with Visa/Mastercard. Payment is also possible with a card from Swisscharge.
> More info on Swisscharge
Can I enter and exit the parking space more than once?
No, the authorisation applies for a single entrance and exit.
Will I be reimbursed if I exit earlier than planned?
No, reimbursements are not possible.
How do I find my booked parking space?
On the booking confirmation in the section "Getting to the car park" you will find a Google Maps link which leads you directly to the car park. Within the parking garage, select any free parking space.
> Zurich Airport Parking Garages
How can I subscribe to and unsubscribe from the Parking newsletter?
We would be pleased if you would subscribe to our newsletter via
> this link
For data privacy reasons we are not permitted to subscribe on behalf of a user. Under "Unsubscribe newsletter" at the end of the newsletter e-mail you can always unsubscribe from our service quickly and easily. Alternatively, you can send us a message.
> Serviceparking@zurich-airport.com
How can I change my address for the Parking newsletter?
For data privacy reasons we are not permitted to change an e-mail address for a newsletter subscription on behalf of a user. However, you may unsubscribe at any time with the current address and subscribe again with your new address.
Step 1:
To unsubscribe with your current address, please use the function at the bottom of the e-mail in the last newsletter.
Step 2:
To subscribe with the new address, please use the form on this page:
> parking.zurich-airport.com
Do you have further questions?
Our team at the ZRH Center will be happy to help you with any questions you may have.
> +41 43 816 86 10 (Mon to Fri 08:00 - 17:00)
> Serviceparking@zurich-airport.com